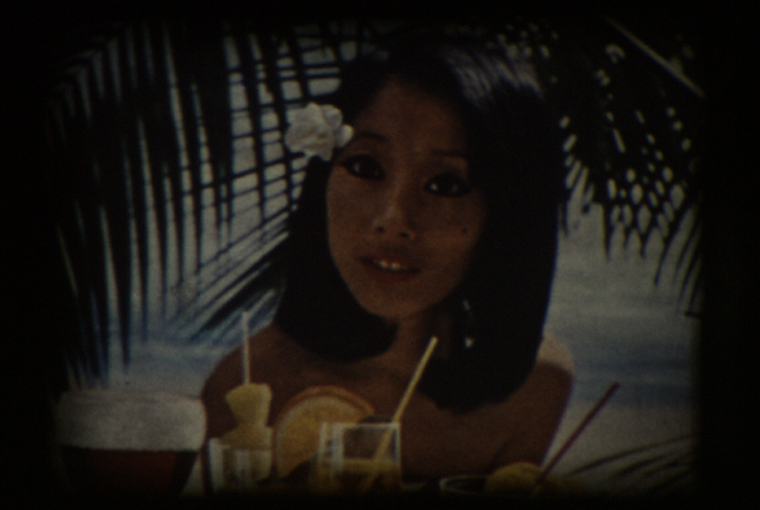 In Central, Eastern and South-Eastern Europe, women amateur art emerged in the late sixties and early seventies. This development happened after the Thaw period under Nikita Khruschev, in an era where dissidence and experimentation were a response to post-totalitarian conditions. Women's lives in the former Soviet bloc and beyond reflected the state policy of gender equality – there were quotas and a push for equal labor rights, though this sometimes clashed with the concurrent discourse on the importance of motherhood.​1​ Many women felt that a certain role with normative standards was attributed to them and that they were represented unfairly in mass media but also in art – not least in non-aligned Yugoslavia, which had developed a relatively independent cultural policy following the Tito-Stalin split in the late 1940s. If many figures of Yugoslav avant-garde cinema are remembered today in film history, such as for example Tomislav Gotovac, Ivan Martinac or Slobodan Šijan, the women filmmakers from Yugoslavia were just as important and have often been disregarded.
Lucy Reynolds has published much about the subject of avant-garde women films in England and their important role in film co-operations in London.​2​ The subject has been researched in the context of South-Eastern Europe by researchers like Petra Belc or curators such as Sunčica Fradelić, Aleksandra Sekulić and Branka Benčić. At the 2022 AVANT film festival in Sweden, which focused on avant-garde cinema from former Yugoslavia, Aleksandra Sekulić and Branka Benčić decided to shed light on women's amateur films from the 1970s. Benčić is the director of the Museum of Modern and Contemporary art in Rijeka, while Sekulić is a curator at the CKZD center in Belgrade, the Center for Cultural Decontamination, a cultural center and archive that was established in 1995 in the midst of devastation and national violence and which managed to create a space of resistance by organizing film and diverse cultural events, including art shows, theaters and forums. The center developed as an anti-war institution with continious critical interventions. The two curators excavated rare films made by women coming from the cine-club culture of ex-Yugoslavia. Some of the women's films had hardly had the chance to be projected until their recent rediscovery, as at times they were excluded from festivals. Sekulić is interested in the themes addressed in these films and their form, but also in distribution practices surrounding them, as if following art historian Jan-Christopher Horak's call to study cinema "not only according to their aesthetic achievements, but also in terms of the myriad contexts of their institutional frameworks and reception".​3​ She has thus studied the strategies of film exposure during a time where women films were not always encouraged to be visible.
Thus, feminist art practices also emerged in a context where the dominant art form had been socialist realism. The state encouraged artists to make political films within the structure of cine-clubs, but political did not mean dissident or marginal. At first, these cine-clubs were installed by the state to promote the socialist realism aesthetic in the fifties and help encourage under-privileged people as well as women and men from the working-class to make films from within a cooperative and democratic organization. Ironically enough, the democratic and artistic liberty of the cine-clubs contributed to the surge of decidedly avant-garde film in Yugoslavia.
One should note that amateur film did not have the same signification then as it does today. Becoming an amateur filmmaker actually meant going through many long steps to make it through the system: for instance, going through a film course was a mandatory requirement to get film stock, and one had to submit a script to a committee before making the films – this was a way for the committee of the cine-club to control the activities of the filmmakers. Furthermore, obtaining the prestigious title of "Master of Amateur Film" was an achievement that only a few experimental filmmakers could pride themselves with after showing their films in a number of selective amateur film festivals. Tatjana Ivančić was the first woman who was awarded the Yugoslav Master of Amateur film in 1980, a title that people like Mihovil Pansini or Tomislav Gotovac also carried.​4​ In terms of style, home movies, city movies, formal experiments or meta-art practices reflecting on the nature of art, of representation and of the film medium itself were common. In the 1970s, conceptual film practices moved away from the cine-club regulations which they found too classical and strained. An artistic group known by critics as The New Art Practice was formed, which encouraged people from all classes to participate in conceptual pieces of all types that ignored the dictum of the polished institutionalized artwork. Women artists such as Bogdanka Poznanović or Sanja Iveković emerged out of this movement. Alternative film festivals were formed, which many women could also take part in, among them the GEFF (Genre Experimental Film Festival) in Zagreb, or MAFAF, an amateur film festival also known as "Minor Pula" that took place a few days before the Pula festival in public spaces each year. Gradually, experimental film in Yugoslavia in the 70s came into view in non-artistic spaces, separated away from the official and institutionalized forms of art, thus seeking out a place in the public sphere.
At the same time that all these filmmaking practices developed, second-wave feminist thought and feminist art were coming to the fore. In 1978, a first Yugoslav-wide gathering of feminists – Drugca Žena – took place in Belgrade and marked the beginning of a self-proclaimed feminist movement. It is true that Socialist governments did give more rights to women than in the West, and that the West did not export feminism to the East.​5​ However, women in the Eastern bloc often found themselves with more burdens than in the West: a woman had to be a mother, a worker, and a participant in political life all at once. Moreover, social realism extolled a vision of women that was almost masculine in art: she appeared as a strong worker, a muscular warrior often seeming androgynous and hiding her feminine traits. In the post-WWII Yugoslav context, the issue of women's liberation was considered to be 'solved.' The Women's Anti-Fascist Front of Yugoslavia (AFŽ), which established itself during WWII and had advocated for equal rights for women, had ceased its activity in 1953. The underlying belief was that revolutionary feminist movements had succeeded in their mission and that "women's issues" – to the extent that they were still present – should be delegated to the state, party, and society as a whole. Philosopher Rada Iveković talks about women's position in Yugoslavia at the time in such terms:6​
It was said that the law had given [women] equal rights, and that many women were in the workforce. Indeed, most women worked, but they were and still are expected to perform household duties as well. In politics or in worker's self-management control of their enterprises, women are usually found in posts of low and local responsibility. Patriarchal mentality remains widespread in Yugoslavia and fosters confusion by repeating a sophism: "Women have rights by law, so they already are equal".
Meanwhile, on the Western side of the curtain, the film culture of Hollywood had reinforced what Laura Mulvey calls a "scopic pulsion"​7​ of the male gaze, which produced a generalized visual pleasure around the fantasy of the feminine body. Many have commented on how Yugoslav pop culture was actually quite Americanized during the Cold War, with US soft power extending its influence into the country through radio, films and other forms of consumer society. This American influence appears in a poignant way in the Film Leaflets fanzines of Slobodan Šijan that were exhibited at the AVANT Film Festival in Sweden. In the lo-fi fanzines, which were distributed at the Pula film festival during the 70s, images of John Wayne ads, Elvis Presley pictures, pieces of storyboards, and American "trash" culture were put on an equal footing with auteur cinema. This is a reflection of how Hollywood stereotypes found their way into Yugoslav popular culture. Feminist artists of the 1970s were fighting against stereotypical images of women spreading from both sides of the curtain.
In a bid to move away from an idea of women as associated with their reproductive function or as an object of male desire and mastery, women artists explored themes of the male gaze as well as female burdens. Experimental cinema for women was not merely about purely formal artistic questions, it was involved with pressing social issues. In film, from the 60s to the late 80s in Yugoslavia, women filmmakers were often marginalized in major productions. As a reaction to this development, they resorted to amateur film formats, such as 8 mm, or, once they were invented, VHS and lo-fi techniques. They explored themes such as identity or the representation of the body in the public and intimate spheres. They thus responded to the concealment of women's speech and language, as well as the emerging control of the media and how it extoled a masculine vision of the human being as a worker or a fighter in news or propaganda footage.
Following in the footsteps of Maya Deren, the Ukrainian-American experimental filmmaker, a silent solo woman protagonist was often portrayed in these short amateur films in symbolically charged situations, playfully searching for liberation from constraint. However, some of these artists did not even self-identify as feminists, and just believed to be representing the reality of their epoch as such.
Dunja Ivanišević's Female (Žemsko, 1968), shot in Split, has sometimes been called the first Yugoslav feminist movie.​8​ Aged 25, Ivanišević explored the 8 mm medium at a time of a scarcity of distinctively feminine perspectives. The status of 'amateur filmmaker' was a prerequisite for making films within the Kino Klub Split, and obtaining film stock within the club was only possible once a filmmaking course was completed. Having completed the course, Dunja Ivanišević thus managed to make a film. In Female, she captures the intimate daily fantasies of a girl who is stuck within the walls of her bedroom, separated from the outside world that is ruled by the patriarchal gaze. She flirts playfully with the camera amongst the idols of the 60s generation – a picture of John Lennon, a Grazia magazine displaying eroticized aspects of femininity, a picture of the godlike Michelangelo sculpture of David – as the lyrics of the song "Stand by Me" playing in the background suggest unconditional female support for "her man". Within the lipstick frenzy of the young girl sitting in front of the mirror or by her window, both male and female stereotypes surround her. Her freedom mirrors the political blooming of the time where material leisure and private liberty were felt. Not least, this was a pivotal moment of social change in women's roles.
As Ivanišević recollects, her male filmmaker friends had supposedly "forgotten" to pack Female for the experimental film festival of Pančevo (most probably deliberately due to gender bias).​9​ Her film was only rediscovered in the eighties by Lordan Zafranović, dug out from the club's archives for its first public screening at the 1987 Assembly of Alternative Films in Split. This event was talked about by Dunja in a 2014 interview, where she adds this discouraged her from making films for the rest of her life.​10​ However, in the same interview she states that she never saw herself as a feminist, but simply wanted to make a film about the development of a female subjectivity seeking liberation from external constraints. This is perhaps linked to the fact that second-wave feminist movements and their interest in deconstructing symbolic gender roles in the press and in art were forthcoming and had not been entirely formalized in the late sixties in Yugoslavia – even if feminist sensibility had already been explored. Additionally, as so often, contemporary readings of female artworks exploring the role of women asribe the label "feminist" in retrospect, even if the label had not been verbalized at the time of the making by the artists themselves.
These films play with the social categories of the feminine. They did not deny the eroticization of the female body in society. Instead, women playfully referred to the eroticization of the female (and male) body in their works. Through editing, the films reversed gender roles as a way of empowerment. As is often the case in Central, Eastern and South-Eastern European cinema, the films transgress the status quo, but only indirectly – oftentimes using humor and irony in the context of very formal experimentations, within the subversive in-between space shifting from the private to the public.
The seventies saw the emergence of social movements, political gatherings and artistic unrest in the public sphere – this can be observed in the 1971 film Plastic Jesus, where Tomislav Gotovac performs naked in the street, sharply criticizing Tito, for which filmmaker Lazar Stojanović would ultimately be sent to prison. Thirty years after the inscription of women's rights in the Yugoslav Constitution, the country had undergone a rapid process of modernization and urbanization, and gender inequalities had undoubtedly been reduced. The changing politics of city life were another theme explored by women filmmakers. Bogdanka Poznanović was born in Begec, Vojvodina in 1930, and went on to become a longtime professor of Intermedia Research at the Academy of Fine Arts in Novi Sad. Her film Heart (1970) is not feminist per se, but shows the emergence of public performances expressing free love. Happenings and interventions in the streets of Yugoslavia were becoming more common, and her film records a procession of people carrying a giant heart sculpture down a street.
Tatjana Ivančić, member of the Zagreb cine-club, was attributed the status of "Master of Amateur film" in the eighties. At AVANT, the film City in the Shop Window was shown, an ode to the city of Zagreb that uses the topos of the city journal to structure the successive reflections on the windows of the street. What at first appears as an abstract formal experiment concludes by paying homage to the window cleaners – the invisible working class and the entire film apparatus that tends to be forgotten behind the "caméra stylo" of male directors.
Amongst these many women filmmakers, Croatian artist Sanja Iveković has arguably emerged as the most radical pioneer of feminist art in the Balkan region. Working in fields as varied as video, film, installation, performance, interventions, photography (private and public), and collage, her work is as playful as it is radical and often juxtaposes the public and private spheres with a particular focus on media and body politics. In Personal Cuts, she is seen wearing a stocking on her head, cutting holes into it and letting parts of her face's skin appear. Through editing, she adds short inserts from media archives showcasing Yugoslav projections of stereotypical femininity and masculinity – images of high-heel shoes, girls in Communist parades, mundane political parties or football matches. The "personal cuts" actively show the porosity between the inside and the outside, the personal, the bodily and the political, the emotional and the overwhelming injunctions on gender that are represented in the media.
In Instructions No. 1 (1976), filmed on video, she draws arrows on her face like instructions in a pastiche of the make-up ritual, thus denouncing how meaning and standards of beauty were dictated onto a woman's very skin in consumer society. With her film Looking at (1974), she re-films television footage, zooming in on the screen and reorganizing our gaze from the common censored way television offers us news footage. The re-filming of a television reel and the multiplication of points of view through a filmic act is reminiscent of the seminal work of American feminist filmmaker Joan Jonas. In the latter's Vertical Roll (1972), Jonas refilms a performance on television, scrolling from one shot of the video to the other in a vertical motion, at a time where video lo-fi technology was disrupting the material discourse about art. Joan Jonas's work was in turn influenced by Jorge Luis Borges' short story The Garden of Forking Parts, a story of a world in which all possible outcomes of a given situation occur simultaneously, each one going on to bifurcate again and again. The television screen in Iveković's work operates this way too: it multiplies, fragments, doubles, and frames media narratives. This idea of media products opening up multiple grids of interpretation and alternative possibilities of narratives appears frequently in the experimental works of the time. Funnily enough, another film concerned with the mixture of media (in this case 8 mm and 16 mm) shown at AVANT Festival, was called "The Garden of Forking Paths" (dir. Slobodan Šijan).
Experiments in cinema in the 1970s were very much concerned with formal structural approaches, these techniques being valued in amateur film festivals more than questions of identity or social concern. Take the aesthetic approach of someone like Tomislav Gotovac, another eminent filmmaker whose work was showcased at AVANT's retrospective of Yugoslav experimental cinema. This radical and formal approach to experimental film was also apparent in women's films from this region, though the structural method should not overshadow the playful yet powerful, personal yet political aspects of these films. Cinema became a tool to deconstruct a socially charged subject, a deconstruction that is inscribed in the very materiality of the artistic form. New editing techniques, such as alternating the female and male gazes (for instance when an image of a woman in full make-up or turning the pages of a magazine is juxtaposed with propaganda images of soldiers in the street), replace the purely dramatic function of parallel editing. Re-filming footage, using inserts, and new interpretations of the self-portrait via body-art are all novel techniques used by these women filmmakers. New media is a way to innovate these techniques but also question the charged power dynamics implicated in the emergence of a medium – choosing the newly emergent VHS technology as an art medium was a way of questioning the power of television and its insidious representation of women in advertisement, or of the male working-class hero in news broadcasts.
Sometimes, the films made within the structure of the cine-clubs adhered to its aesthetic paradigm. At other times, they moved away from it. At the same time experimental film festivals were developing outside of the dominant structures of filmmaking. Still, amateur film clubs, which were supposedly democratic and a window of opportunities for filmmakers from all social backgrounds, managed to exclude some women from the making of cinema and its distribution in festivals. Thankfully they were left to be rediscovered at the end of the eighties.
References

1.

Chiara Bonfiglioli. Becoming Citizens: The Politics of Women's Emancipation in Socialist Yugoslavia. https://www.citsee.eu/citsee-story/becoming-citizens-politics-women%E2%80%99s-emancipation-socialist-yugoslavia#_edn2 [Accessed on 25 October 2023].

2.

Lucy Reynolds (ed.). Women Artists, Feminism and the Moving Image, Contexts and Practices, London: Bloomsbury, 2020.

3.

Jan-Christopher Horak. Lovers of Cinema: The First American Film Avant-Garde 1919-1945. Madison: University of Wisconsin Press.

4.

Petra Belc. "Some Remarks on the Position of Women in the History of Yugoslav Experimental Cinema: The Case of Tatjana Ivančić''. In: Carotenuto, S.; Gabrielli, F.; Jambrešić Kirin R.; (Ed.). Disrupting Historicity, Reclaiming the Future. Napoli: Unior Press, 2019.

5.

Adriana Zaharijević. The Strange Case of Yugoslav Feminism: Feminism and Socialism in "the East''. In: Jelača, D., Kolanović, M., Lugarić, D. (Ed.). The Cultural Life of Capitalism in Yugoslavia. Cham: Palgrave Macmillan, 2017.

6.

Rada Iveković. "Yugoslav Neofeminism''. In: Morgan, R. (Ed.). Sisterhood is Global: The International Women's Movement Anthology. New York: The Feminist Press at the City University of New York, 1996.

7.

Laura Mulvey. "Visual Pleasure and Narrative Cinema''. In: Screen, Vol. 16 (3), 1 October 1975, 6–18.

8.

Hanna Stein. Mapping and Grounding Visual History: Methodological Reflections on Historical Research and Amateur Films. In: Research in Film and History. Sources – Meaning – Experience, No. 3, 2021, 1–22.

9.

Antonela Marušić, "Dunja Ivanišević, Redateljica Prvog Domaćeg Feminističkog Filma `Žemsko''', VoxFeminae.

10.

Belc Petra. "Some Remarks on the Position of Women in the History of Yugoslav Experimental Cinema: The Case of Tatjana Ivančić''. In: Carotenuto, S.; Gabrielli, F.; Jambrešić Kirin R.; (Ed.). Disrupting Historicity, Reclaiming the Future. Napoli: Unior Press, 2019.